The future of the smart bathroom
Shower Stream's current device is only the first application of a broader mission to bring water conservation and energy savings to the commercial sector.
The call for IoT water and energy management at scale
With restrooms contributing to the majority of water usage across commercial facilities in the U.S, solutions for minimizing bathroom water and energy waste within the larger industry are in high demand. Drought conditions, local water table problems, and state regulated climate and efficiency measures are further pushing businesses to identify ways to reduce consumption. Current options require adjustments to the user's behavior or extensive installation costs and management time, so effectively combating water and energy waste has been a challenge for these institutions in the past. Shower Stream is meeting these challenges by eliminating any user interaction and enabling quick deployment for collecting data for streamlined management across facilities.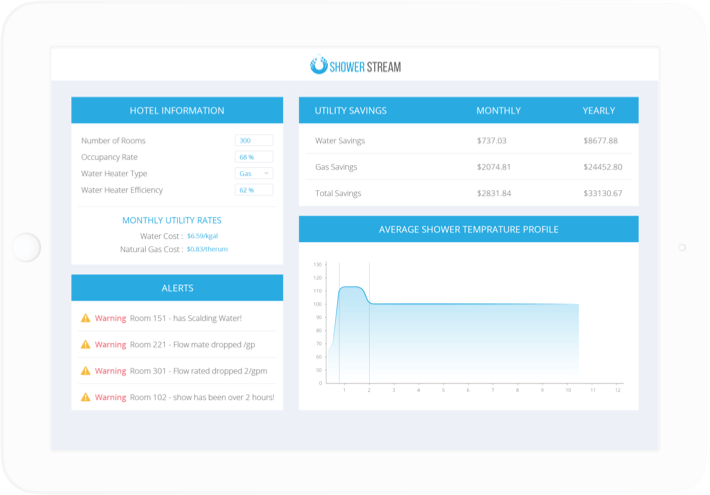 Innovation for the commercial bathroom space
Shower Steam's parent company, Abstract Engineering, is working to broaden the application of their technology to a number of bathroom fixtures within a variety of institutions.
College Campuses

While some schools have already implemented sustainability plans to help reduce water use, the industry hasn't seen a device that can track progress towards these goals down to the shower level.

Fitness Centers

Constantly running showers and water fixtures are staples of any gym, yoga studio or fitness center, so owners are looking for ways to minimize water consumption without negatively impacting their fitness enthusiasts' experience.

Health institutions

Hospitals and large healthcare facilities need reliable technology that enhances operational efficiency and enables predictive facility maintenance so time and money is spent on saving lives, not utility bills.

Multi-use commercial properties

Maintenance, operations and property managers have never been able to track energy and water usage in this detail with a cost-effective solution that can be deployed at scale for office and housing buildings.